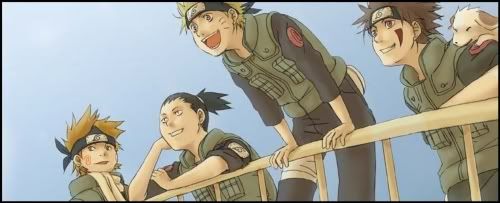 Requirements for Soragakure Chuunin Examination.
>A Previously Approved Character Profile.
>A Set of Previously Approved Jutsu and/ or Equipment.
>2 Completed Mission Topics. [See Mission Information for Complete Information]
>2 Completed Casual Topics. [See Information Below for Complete Information.]
>1 Completed Battle Topic. [Same As Above.]
Information On Chuunin Examination.
On Requirements.
I've tried to give some easy requirements here. In simple terms you just need a approved character and anything you need for a battle, then you just need to do 5 topics with your character. Anything you need to know about what you need to have a completed mission topic, can be found in the Mission thread, linked above. As for completed Casual/ Battle topics. You need to fit the following criteria to make a topic requirements acceptable.
>200 Word Minium for posts. [Meaning each post you make, has to have atleast 200 words in it. click this
Link
For a Online Copy and Paste Word Counter.]
>10 Post Minium for Self RP Topics. [This means you have to post atleast 10 Times in your' solo rp topics.]
>5 Post Minium for Group RP Topics. [You'll have to post atleast 5 times in a Group Rp Topic.]
An added note : You can continue any Rp topic past he miniums. They just have to have atleast the 5 or 10 post requirments.
Here are some things that
won't
be Requirement Approvable.
>One Liners in a Topic. [Not every post in you topic has to fit the Word Minium for the examination, however One Liners will not be acceptable.]
>God Modding. [Any God Modding in a topic will no be allowed. Things may be looked over if the User didn't realize it was Gming, however blatent Gming will not be allowed in Sky. Especially in it's higher ranks.]
>Village Transfering Examinations. [We do not allow any User to come to our village, just simply to get an examination. Any such actions will result in an and all ranks being stripped form them.]
>Topics must involve your SKY ninja, and must have been created after this topic has been made. Basiclly anything made before September [x] is void for being used to recieve an exam.
Along side these I will also state the following.
These Exams are
NOT
for Wanderers. Any Wanderer/ Missin-Nin, will have to take the proper route of an examination for wanderers to get thier rank ups.
Any questions you have on Requirements. Feel free to Private message me,
Physalis
.
On The Exam
I'm taking the exam back to it's roots. In the past we have done it like the Konoha exams, and even as just a mission. then there was the 2-part exam of Hunter and the Hunted. While exams like Konoha died almost within a few posts, the hunted and Hunter did work out. And many other village's have made use of the standard mission exam base.
Well I don't want to do any of those persay. While the examination will be under the cover of a simple mission. It will be used to test evrything a Ninja needs to have in order to be a Chuunin. Much like the basis of the Konoha Style Exams. You will tested on the following
>Survival
>Information gathering / Keeping
>Combat
>Knowledge
While you don't have to be an ace at anything and everything in the exam, You'll have to show atleast some ability in all of those.
As per most exams, it will be graded on a Judgement System. meaning, we read it, judge it, then tell you if you pass or not. there are no points to get in anything. Just a simple yes or no answer. But we may make comments on what could be improved.
There is no single setting behind the exam. It may change depending on the one giving the exam, or maybe depending on your character itself. So of you may get he same exam as other, simpl because we may not have the time to work out a personal exam for you, so don't be offended or anything.
As for the format of the exam, it can be either a group or single exam. meaning you can either take it by yourself, or if you wnat to perhaps do an exam wiht your team you can. just be sure to state which exam type you want, and the names of those participating.
On Requesting an Exam.
As obviously stated above, first and foremost you must meet the requirements. Once you have collected those things, you'll have to provide a post within
this
topic providing links to all of them. You can use the following format to provide the information.
Code: Select all

[u][b]Character Name[/b][/u] : [Character Name]
[b][u]RP Links[/b][/u]
[url=link here]Mission 1[/url]
[url=link here]Mission 2[/url]
[url=link here]Casual Rp[/url]
[url=link here]Casual Rp[/url]
[url=link here]Battle Rp[/url]
[u][b]Profile Links[/b][/u]
[url=link here]Character profile[/url]
[url=link here]Jutsu List[/url]
[url=link here]Equipment[/url]
[url=link here]Demon | Seal[/url]

[b][u]Exam Type[/b][/u] : [Solo, Group, or Either]
Fill it out, then post it in this forum. We will then tell you if you are accepted, and your exam will be done within that same topic.
We'll look through and make sure everything is fine. Then we will post back in this topic, with a link to your examination. Please do not Post any exam on your own. Offical exams will, and can only be made and approved by Physalis. Only these Mods can approve any examination. Please do not contact any other Moderator asking for them to approve it.