Name of Character

:
Wander
Name of Demon or Spirit

:
Dormin
Location of the Seal

:
Chest
Demon/Spirit Gender

:
Male
Demon/Spirit's Age

:
???
Looks

:
Dormin is a Colossus around 50 to 75 feet tall. He is said to be a giant demon with two, curved horns on his head, eyes that are pure white, large insect-like legs on his back, and completely covered in black hair. Under that hair, he is nothing but pure dark chakra. He is also rumored to have carried a giant sword, the same one Wander carries with him. When Wander is partially transformed, Dormin's chakra turns his skin white and gives him black marks all over his body, much like a curse mark. It also gives Wander black eyes and replaces his blood with dark chakra. Dormin can be seen by others.
Personality

:
Dormin's personality is very corrupt. He constantly wishes for freedom out of his accursed seal, especially since he was revived by Wander, then right away sealed again. Along with that, he is the embodiment of pure evil, so his desires are always about bringing death and destruction to anyone and anything. Dormin plans to overpower Wander soon and use his body as a vessel, but the seal still holds, so Wander still controls HIM, and Dormin always hated being used.
Skills/Specialties

:
For being simply sealed inside of Wander, Dormin forcibly gives Wander his ability of his Dark Chakra. This Dark Chakra contains many properties that of blood. The chakra is thick, but had a liquid property that can be created from normal chakra. It also acts like a poison to other chakra sources, eating away at sources of energy for strength. This chakra is like a double-edged sword for Wander, as it can cause internal or external injuries to the opponent, but Wander must find sustenance for the chakra to keep it from weakening himself every once and a while. When partially transformed, Wander can use Dormin's abilities of pure dark chakra and can mold it even greater than he can normally. Wander's ability to mold chakra is experienced enough in partial transformation to create a cloak of dark chakra around him that can extend Wander's reach and absorb chakra from long distances. He can also absorb nearby darkness, such as shadows, to feed Dormin's chakra or heal minor wounds. When he is fully transformed into Dormin, he can basically do the same things as when he's partially transformed, but on a far greater scale. With Dormin's full power, he can form dark energy spheres and hurl them at his opponents, exploding on contact. Also, he can also now use Dormin's dark tendrils to crush or wrap opponents into submission. However, this power comes with a price. Whenever Wander is partially transformed, his blood is slowly transformed into dark chakra. This strains the body, as it is unfamiliar with such a substance in the body, which forces white blood cells to attack the chakra network. After partial transformation, Wander loses at least half of his chakra, and his body is internally strained, which is why he can only use it for such a limited time (around 5 posts). The risk is even higher when he is fully transformed. His flesh, along with the blood is transformed into dark chakra. When reverted, the dark chakra tries to reconstruct Wander's body. However, the blood is mostly lost during this transformation, and Wander may not have enough to live or pump in time, which can potentially kill Wander if the use is overextended. Thankfully, Wander can only perform partial transformation, due to being at genin level experience with his inner demon.
History/Background Story

:
Legends says that Dormin was once a human hundreds of years ago. He was an evil and powerful ninja that killed and destroyed simply for pleasure. One day, he crossed paths with a man that was minding his own business. Dormin challenged him, and the reward for the winner was their life. The two fought one incredible battle, but Dormin was defeated. The man wouldn't kill, but he cast a curse on Dormin. His appearance must match his lust for destruction and death. From then on, Dormin was a monster of darkness. Years later, he embraced his hideous appearance and continued his trail of death! He mastered the manipulation of darkness and became feared across the land. No one, not even the Hokage could defeat him. That is, until a group of nomads came. They challenged Dormin and fought in mortal combat. The battle lasted for three days, until one man, known as "The Shadow" appeared and sacrificed his life to seal portions of Dormins' power into the sixteen areas of land over a lost civilization. However, the land's trees and earth absorbed the dark chakra and became a living being, creating Sixteen incarnations of Dormin, known as the Colossi. The monks who fought alongside The Shadow promised him to protect the world from these monsters by sealing off these ruins. After that battle, the same area is now known as the The Forbidden Land. Dormin was laid to rest, sealed within the Colossi of the forgotten world. The only way that he could roam free was if the Colossi's dark chakras were brought together, so his power could be whole again. Thankfully, after one hundred years, a young man sought out to destroy the Colossi to use Dormins' power to save his beloved. This man was Wander.
The seal on Wander's chest, containing the Dormin: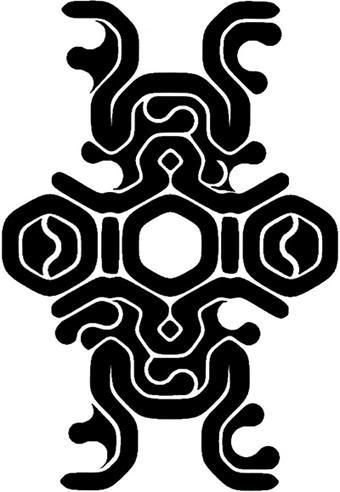 Dormin: